All right continuing my Crush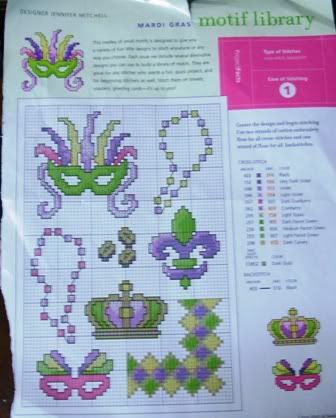 On Thursday I did the Fluer de Lis
On Friday I started the big mask but don't have a picture :p these will be magnets for my bathroom.
Saturday was National Stitch in Public Day. Instead of another Mardi Gras pattern I had bought a pattern on Thursday from the LNS because it was cute and for a friend. I never knew that a little 48X48 inch pattern could be so dang infuriating! (I'm not posting a picture yet because my friend sees my blog and would know it's for her.) However if you check out Hinziet the corrections for the pattern are now up ;) Yes at least the first problem was not mine! I was pulling my floss and I flipped open the pattern to check how much of one color there was because I didn't have the exact number. Then I see there are letters in the pattern that are not on the back!! I called the number and she answered quickly and said she'd get back to me. She called me back within the half hour with the needed corrections! Great service!
Then I was packing my materials and fabric when it hit me that I cut the fabric wrong! Luckily the piece I had used had come off the end of a much used piece but still. I had the design figured for about 3.5 inches and I added 2 inches for the extra but ONLY 2 inches I forgot it should be 4 for top and bottom :p So I cut another piece and another of the endy bits ended up being a 7X7 piece! So far so good.
I get to the mall where I'm meeting my friends and we have some lunch. Then we go around the mall trying to find a place for all of us to stitch comfortably. I moved another chair closer so we all wouldn't be squished. Only one gentleman stopped and commented because his lady did some stuff like that. So we gave him the information to get to the LNS. At least some people did see us and look down on us as they were going to the 2nd story in the Elevator.
After the hour or so I came home and put on Netflix and watched Bones and Jim Henson's the Storyteller. As I was stitching I started doing the border and noticed it didn't come out right. So I checked and the border was fine but one of the things I stitched I counted one up and over from where I was supposed to :p and of course I counted something else off of it so it all came out. It wasn't much so I thought it was fine and kept right on. Then I flip over the chart to check a color and realize I was supposed to do over 3 for the letters. I only have one letter and a bit done so I decided to rip it out and do it over three. I should have left well enough alone!! I got all the letters done and was stitching the rest of the bottom border and guess what. When I restitched I put the second letter over one stitch to the right :p Insert Charlie Brown ARG here. So I left it. I think I'll just have to figure out another border to stitch because I'm not ripping out all those letters!