The House Mouse Challenge was hearts but I didn't feel like doing a card. Somewhere I have Valentine's Day cards I made last year stashed. So I decided to hunt for my heart shaped tins that I've kept for a few years now.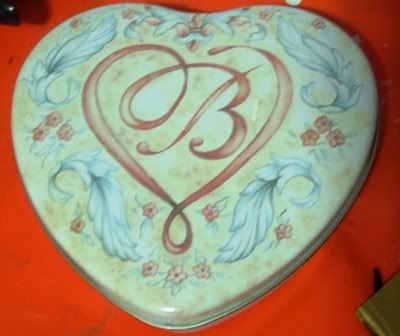 I decided to use some decoupage tissue in gold.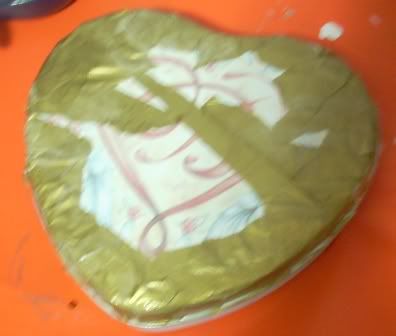 Getting all the edges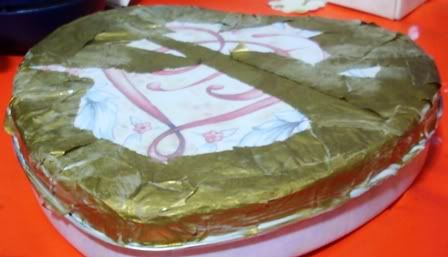 Drying on top of Granny's old sewing machine, while I fix up the front.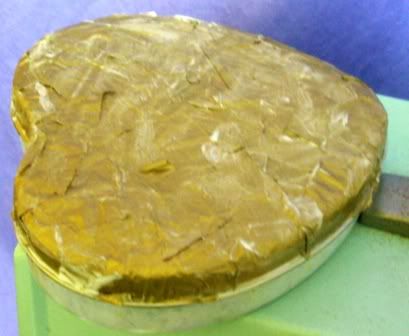 For the Front I stamped House Mouse Lilac Bouquet onto plain white cardstock in black Stayz On. I cut it out using Fiskars Shape Express 5 inch heart. I trimmed around the image so the background L would show. I colored it in with Pebbles Inc. I Kan' dee Pearlescent and Regular chalks. The Purple Heart is made from Core'dinations white wash cardstock, embossed with Cuttlebug alpha and sanded with Tim Holtz block sander (I <3 that sander) I attached the hearts with glue dots and then attached it to the still drying tin with some Glue Arts cut it yourself foam squares. I <3 those too because you can cut them to size so you don't have to use a bazzilion squares to stick something big down.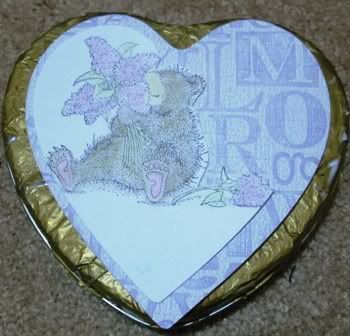 A close up so you can see the shine of the chalks. I did the background in white so some of the purple picked up on the bottom but eh whatcha gonna do.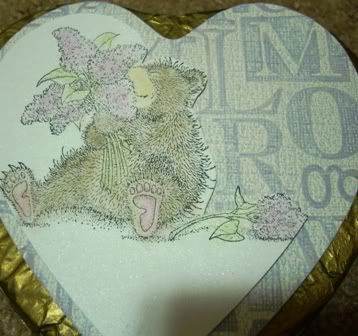 And now this crafter is missing her hockey game! I hope you enjoyed my tin.