First OMG I SCRAPPED SOMETHING PINK!
That's scary for me!
I had gotten some stuff from my friend Cristal on the condition that I had to partipate in BOO and give stuff to 2 other people. Was supposed to do it in 24 hours but opps I did it yesterday! I was using pink for practice boxes but there are girls next door and across the way so I just used up some swappy stuff :D I put in some Hello Kitty Stickers I had, some of the Halloween stickers and a funpack of Skittles. I was about to put some flowers but I relized they weren't stickers they were brads and don't want the kiddies to hurt themselves LOL :D
To make my self feel better I scrapped some Halloween! Granted another EEEKKK (literally too LOL) is that one of my guy friends had gone as a 3 year old and was in white bikershorts and a pink tutu I think he had combat boots on too LOL and my other friend was "my girl" and I was the gangster. I need to fix the year because I put 2001 and I relized on the way home today that it was still 2000 cause they were wearing their costumes from the Renfair and hadn't graduated HS yet LOL The papers are Cloud 9 the rub-ons from DCWV Fall Stack 07 and Grungeboard from Tim Holtz YEAH I GET TO USE THE SKULL FINALLY :D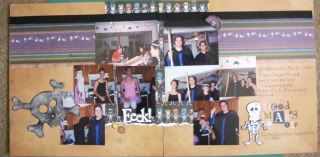 Oh and something else worthy of an EEEKKK
My scrappy space!
Now to brave the labrynth to produce more scrappy stuff :D