My
Coraline Contest
sample LO.
I took the sketch and did a challenge over at
Serendipity Scrapbooks
To do a all black or all white LO with a pop of color. Mine has a bit of grey in the flower but it still works :D
This was my friend Tammy's wedding. I"m the one on the right with the stray popdot square on my sholder OPPS! ROFLMAO oh well. I don't remember what the names were of her Matron of Honor or the Flower Girl! I almost didn't remember the year till I remembered she was married the same year as me and took 2 months to plan!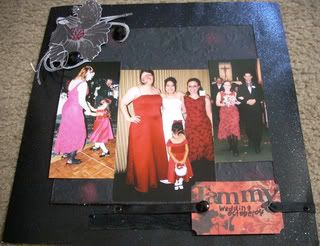 I cut the flower from my 6X6 pad of Basic Grey's Scarlet's Letter and punched holes so I could easily do some French Knots (much easier to do on paper than in my cross-stitching!)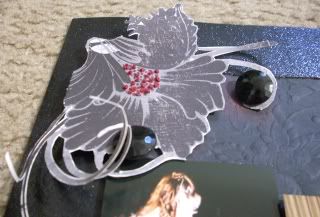 The buttons were from my Granny's button stash. The black sparkly paper I had gotten as a prize from Serendipity for winning the November Team Challenge, it's Doodle Bug Designs Beetle Black. My tape did not like me so I had to carefully use glue cause I cut a hole in it where the embossed paper is LOL I'm thrifty what can I say LOL. The embossed paper was on clearance at HL and was 50 cents. The little bits of black ribbon were from FiskaFrenzy and the black lace was another in my Granny's stash :D Thanks Granny ;) The brads were from I-Kan-Dee and I filled them with Black Diamond Stickles for some more sparkle. The tag was from Scarlet's letter and I colored the holes with a Sharpie so it'd blend better.

I hope to see some wonderful creations soon :D I'll be on the look out for a nice little something.
Ziggy