Here's my Entry. I made it an Anniversary Card and gave it to Steve last night.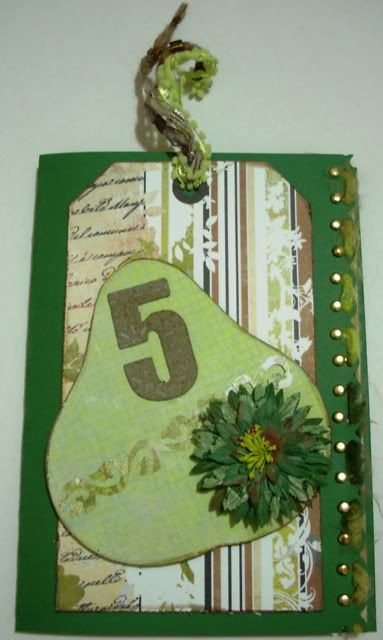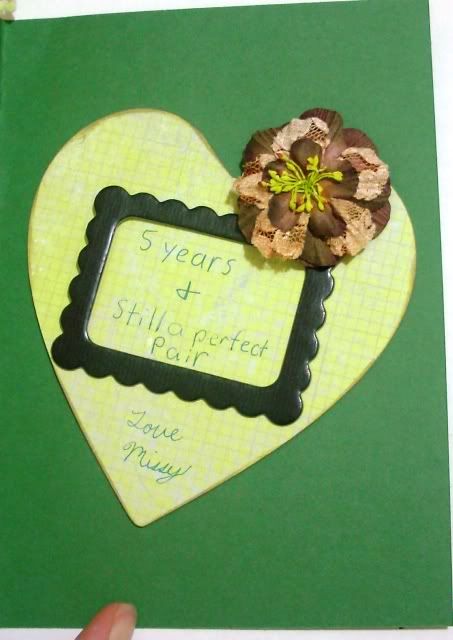 Generic green cardstock for the card base, The tag is Basic Grey Scarlet's Letter the green paper on the pear is Basic Grey Perphery? I think. Some of the fiber was from the BG Scarlet's Letter and some from my stash. I used the Fiskars Effervesince Border Punch and threaded the fiber through and added brads. Flowers are Prima. The little paper is also Basic Grey from my 6X6 Scarlet's Letter pad and was cut with my cuttlebug a while ago and it fit perfect. The 5 is Grungeboard and I ran it through my cuttlebug with the flower folder from the Thank You set. I inked it and the edges of the tag and pear with Distress Ink Frayed Burlap. I also distressed the edges of the tag first. Not sure where the Pear came from it was in a kit I won. I had an apple and something else too with it.
Inside the card I cut the rest of the BG paper with my Fiskars Heart Template and Ultimate Shape Cutter. The black frame is American Crafts Thickers.