Pinky had posted an online crop on her blog so I've been busy creating over at http://www.scrapbookingfromtheinsideout.com/index.html
Sketch Challenge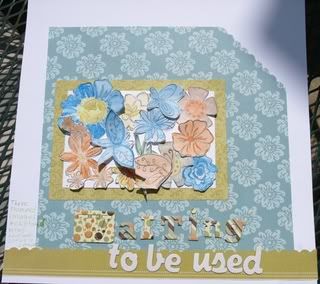 the journaling on the side says these stamped images and chipboard letters have been sitting in a drawer Waiting to be used (had to use sketch and the word wait or waiting)
Iron Scrapper Challenge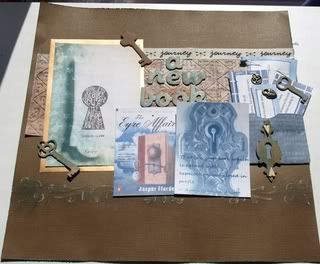 Had to use one of the pictures provided. Looking for a pic to go with the keyhole I came across the Coraline poster so went online to find the Jasper Fforde book cover. Then I found book quotes and decided that a quote would be good over the keyhole pic so I changed the color and added a text box :D There were more quotes I liked so I made a library pocket with my Hot of the Press template and made some tags. The keys came from Thickers, grungeboard and metal pieces I had. The keyhole was grungeboard and I found some heart brads since I used the heart pin I had from a swap. Paper is ollldd it's been in my stash for 6 years? I dembossed it w/my flur de lis cuttlebug folder (because I didn't relize I had it upside down :p) The bottom part I hand embossed with my fiskars template. I distressed and inked everything with distress ink in china blue and antique linen.
Anticipation challenge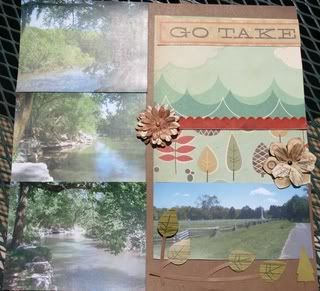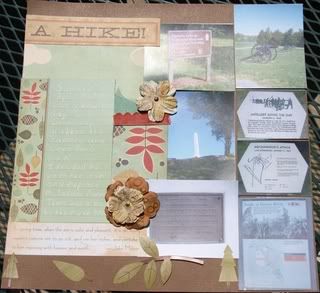 Do an LO about the Anticipation of Spring or your fav flower. You must distress at least one flower. I turned this into a double LO (Page Maps by Becky Fleck for all LO's) and did a walk I took when it was warm enough in April to go out. The papers are Cosmo Cricket that I won, I think the red ribbon is too it was ment to go with cogsmo I've had that for about a year now. The flowers were some distressed one I had gotten for free and I think I won the prima's too! The prima's I scrunched and inked up to match the distressing of the other flowers.
and the upload is taking forever because I used hubby's camera I guess :p my BIL took my camera to Indy so he could take pics of his grandbaby! Ziggy is a Great Aunt now! So you might see some Baby LO's in the future.