It's a new month and that reminded me I haven't updated anything for a while :p
This is my friend Jason's Wedding He's the one pointing at the ring ;)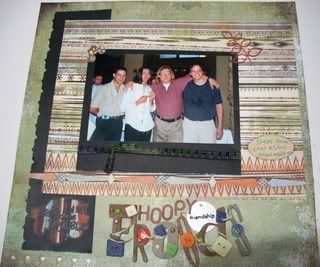 Me and my honey. The pic was takin when we were visiting Jason, his wife and new baby. This was done for a Who would you Miss challenge. Journaling reads I 'heart' you and when I go to my crop in April I will have fun with my scrappy friends but I will miss you.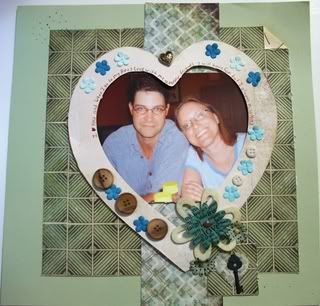 Serendipity challenge: had to use 3 PP, 3 photos and 3 of anything else. I looked through my photo album and found these photos my Mom took of me to finish up the roll. I kinda miss doing that :D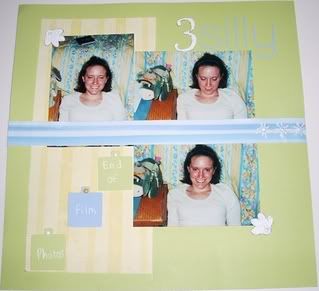 A pin I made for a prechallenge crop at Serendipity. I used some flowers I was given, inked one with alchol ink and added a button from my Granny's Button stash.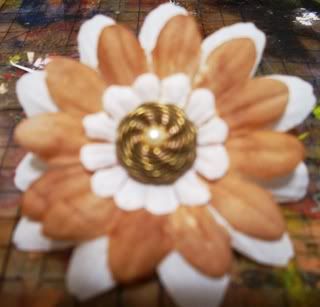 I had a challenge to scrapbook my favorite movie. I had all ready done a Coraline Page and a top ten page so I did movies that came out the year I was born.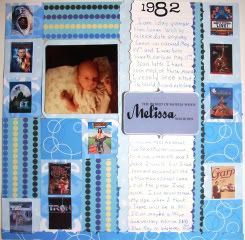 Over at Just Scrappin we are doing a Secret Sister All About Me swap. My SS made me the groovy altered 45!! I also incorperated some prima's, brads, she typed and matted the songs. There was a challenge at Serendipity to sb a song title, use a clock, a sketch and there may have been one other requriement.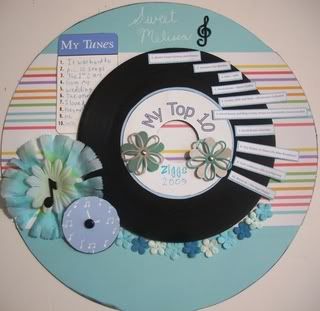 All right well I've watched I'm Not There interesting movie LOL Not my favorite but it was good :D
Becky Fleck has put out new Page Maps! and Card Maps :D and Tim Holtz has new videos out. Serendipity still has their flashback crop music up so I'm grooving to tunes and I'm going to go be inspired and get some scrappy stuff done today :D Have a great day.